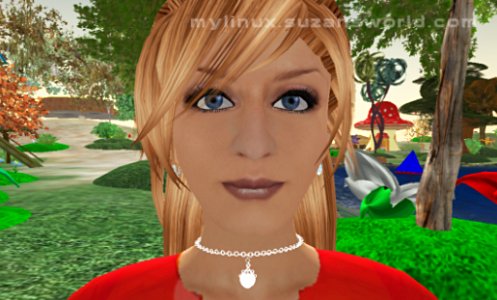 Ich habe ja erst kürzlich von Second Life berichtet und auch der Open Source Community, die sich dort gebildet hat. (Mein Second Life-Avatar hat sich auch ein wenig weiterentwickelt, seit dem letzten Beitrag! 😉 )
Gestern hat sich nun eine kleine Gruppe spontan dazu entschlossen die Free and Open-Insel zu verlassen und zusammen ein bisschen durch Second Life zu streifen. Wie im echten Leben auch, verbinden gemeinsame Unternehmungen ja bekanntlich. 😉
Verwendet habe ich natürlich den nativen Second Life-Linux-Client unter Ubuntu-Linux, der wirklich hervorragend läuft. Auch meine Laptop-Grafikkarte, eine GeForce Go 7300 256MB (Turbo Cache), kommt mit Second Life hervorragend klar. Allerdings muss ich Compiz für Second Life deaktiveren, sonst komme ich in den "Genuss" des "black window bug", heisst einige Fenster haben nur schwarzen Inhalt.
Und es gibt eine kleine Premiere bei diesem Beitrag. Ich habe den Text, so gut ich es kann, auch in englischer Sprache verfasst. Somit können auch die Teilnehmer dieser kleinen Tour den Beitrag lesen. Diese kommen ja wirklich von allen Ecken der Welt. Ich glaube es waren Leute aus folgenden Ländern dabei: Niederlande, Schottland, Italien, USA, Irak, Schweden und Deutschland. Der Übersichtlichkeit halber ist der deutsche Text normal geschrieben, der englische kursiv.
Short time ago, I worte an article about second life and the open source community in it. (My second life avatar enhanced a bit since my last article…)
Yesterday a small group of people decided spontaneously to leave the Free and Open Island for a while and take a little excursion in and through second life. As is generally known common undertakings unite – just like in real life. 😉
Certainly I used the native second life-linux-client with ubuntu-linux, which works very well for me. Even my laptop graphics-card (a GeForce Go 7300 256MB (turbo cache) ) deals very well with second life. The only not so nice thing is, that I have to deaktivate compiz for second life. Otherwise I got the well-known "black window bug".
It's the very first time I write an article on this blog in english language, too. As good as I can. So the people from second life could read it, too. The group came from all over the world, I think we were from the netherlands, scottland, italia, USA, iraq, sweden and germany (did I forgot some country?). For clarity I italicize the english text.
So enjoy the little trip!
(mehr …)